Note:
All prices in US Dollars


Click to enlarge image(s)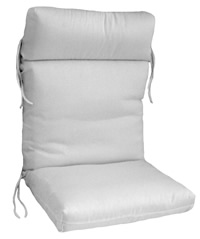 Hinged Cartridge Style Club Chair Cushion

Size: 22" x 40"" x 4"
Back Width: 22" - Back Height: 20"
Seat Width: 22" - Seat Depth: 20"
Thickness: 4"

Welt: no
Filling: Layered Polyfiber
Features: Ties on Back Top & Hinge,
French Edge
Fits Most Chairs - 1 Piece Hinged
DOUBLE CLICK ON ANY FABRIC IMAGE
TO SEE A CLOSE UP VIEW OF THE WEAVE.

SCROLL TO THE BOTTOM OF THE PAGE TO MAKE
YOUR FABRIC SELECTION IN THE POP UP WINDOW.
SELECT YOUR FABRIC CHOICE ON THE
POP UP LIST BELOW AND IT WILL
APPEAR AT THE TOP OF THE PAGE
AND IN YOUR CART.